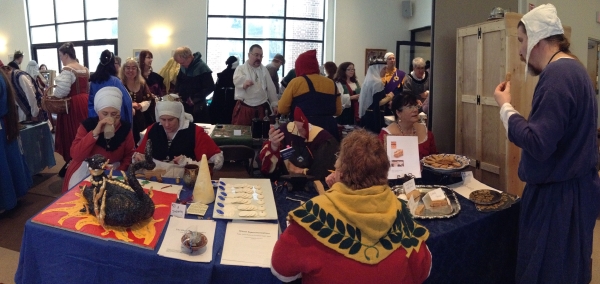 St. Eligius is our barony's annual event focusing on the arts & sciences and is held in November. It features displays of work by very talented artisans from our barony and around the East Kingdom.  Prizes are awarded in several different categories including a Populace Choice, which is voted upon by all those in attendance.
St. Eligius will next be held on Saturday, November 12, 2016 in Meriden, CT. For more information, please check the event listing on the East Kingdom website.
Rules, Score Sheet, and St. Eligius' 12 Questions sheet (documentation form recommended, but not required) for St. Eligius Contests November 12th 2016.
st-eligius-rules-2016-pdf-download
The St. Eligius Contest is an A&S Contest modeled on an SCA armored combat or rapier tourney. You must be present at the event with your entry to participate in this contest.
Each entrant declares the contest group they feel best fits themselves and their entry. Advice is available from registration personnel but it is not binding.
Novices have entered up to 2 previous small competitions & feel inexperienced in A&S contests.  Novices are further divided into A and B with A being new to the SCA and B being more than 3 years in the SCA.  (Analogy: competes in Novice/Rookie Tourney)
Artisans have entered >2 contests and have experience in getting feedback & refining their entry so it shows to best advantage. (Analogy: competes in Cadet's/Squire's Tourney)
Experienced competitors have entered several local or Kingdom-wide contests. This group also includes any Laurel whose entry is anything-BUT-what-they-were-laureled-for.  (Analogy: competes in King and Queen's Championship Tourney)
Laurels & Masters are either members of the Order of the Laurel entering examples of the work(s) for which they received their recognition, or any non-Laurel who chooses to enter in this group and wish to demonstrate their mastery of an art or science.  (Analogy: competes in Best of the Knowne World Tourney)
Since SCA combatants declare the winner of their own martial bout, St. Eligius entrants for all groups will score entries in their contest group: novices scoring novice entries, artisans scoring artisan entries etc. Orientation to scoring will be available for every entrant. An experienced and confidential consultant will be available to advise and assist the individuals in each group. Come prepared to talk about your work and be ready to ask questions and score others' entries. Get to wear both hats! It'll be fun and enlightening to be both entrant and scorer.
A St. Eligius 12 Question sheet should accompany entries in this contest (strongly recommended). It is OK to say "see documentation" and provide your documentation from prior competitions/displays.
Where possible, images of extant examples or related items should be included to help those scoring your work. Sources should be generally regarded as reputable and directly applicable to the entry.  Enough source location info should be provided that others can look up your sources and find the same images and text that you found.
Research papers are limited to 8 pages & must be received in e-format by Mistress Brose, Contest Coordinator, at aligori@pobox.com by Nov 3rd 2016. They will be read in advance by non-contestants, but face-to-face discussion and scoring will occur so authors must be present to discuss their work.
No kitchen facilities are provided. All food, beverage, and cosmetic entries must have a full ingredients list to avoid foreseeable allergies.  We do not have a Baronial Epi-pen.
Works-in-progress are very welcome.
Works that are difficult to transport may be entered via photos & write-ups. Videos of works are permitted. Entrants must still be present to discuss their work and to score others' works.
Use of smart phones or computers to show images or references is permitted but not required. No equipment will be supplied, but you may share or borrow. NO internet hotspot access is available.
This site is discreetly damp and alcohol-containing entries are welcome. Please take your empties with you.
There is no age limit on entries. Good work is still good work. Bring your best even if you made it 20+ years ago. If it's a mead or a cordial it might be even better than when it was younger.
Please remember that encouragement and kindliness are very important. We're all amateurs doing this stuff for the fun of it. Critiques are most helpful when suggestions for improvement are specific and presented in clear, friendly, courteous language. Exchange contact information so if you have additional thoughts to share you can reach the entrant.
Several special contests are also being held at this event. Selected judges will try to speak with each entrant about their work but detailed written scoring for these contests will not be available.
Collaboration (new this year): We're celebrating our medieval society by instituting a group collaboration challenge. Please enter a project accomplished by 2 or more artisans where each person contributed different skills to the finished work. Documentation should describe the item and highlight each artisan's contribution to the work. At least one of the team's artisans should be present to discuss the work.
Misadventures! (new this year): We believe that successful craftsmanship is less about sheer raw talent and thanit is about practice with attendant risks, trials and errors. Please collect and show off some examples of your mistakes, disasters and unintended consequences. Poke around oin your work table drawer and bring in some of your unusable but interesting relics. They are often more enlightening and encouraging than perfection.
Artisan's Progress: Encourage others by displaying 3-5 examples of your work showing how your skill has progressed.  Please include something from early in your career (even if that was last week). Works may (but need not) be entered for individual scores.  Documentation should be brief with short descriptions of what the items are and rough dates of completion.
Medieval Moment: In honor of our patron, St. Eligius, we ask that entries to include a brief description of your experience of a Medieval Moment if you noticed one during the preparation of your project. Please describe (verbally or in writing) something that brought you closer to the artisan who originated the work you have adapted or used for inspiration.  Descriptions may be written or verbal. See # 11 in St. Eligius's 12 Questions. A good story is always welcome.
Master Alexander Challenge:  In the spirit of Master Alexander the Younger, please enter example of your work in an art that is new-to-you within the last year. New techniques within the art that you already practice do not count (i.e.  glassblowing to enameling of blown glass beakers is an expansion of a skill, not a new-to-you art form.) Minimal documentation of methods and how this is new to you is requested. The intent is to give a supportive venue for showing new-to-you arts without the rigors of open competition. The winner and the prize will be chosen and presented by Lady Cassandra de Matisse or her representative.
SCA Kluge: a competition for smart alecks.  Non-period items made with a medieval flair (e.g. hat, camp furniture, lawn ornament). Documentation is welcome & can aim to amuse.
Populace Choice: Vote for your favorite. There might be beans– or marbles but no turtles.
Baron & Baronesses Choice: Catch their Excellencies' eye and gain praise and a prize.
The Dragonship Haven Baronial Arts and Sciences Champion will be chosen at this event to represent this Barony in the coming year.
Prizes will be awarded during court to the gentles achieving the highest score in each St. Eligius Contest group: Novice A, Novice B, Artisan, Experienced competitor, Laurels-&-masters. Prizes will also be awarded for highest scores in Collaboration, Misadventures!, Artisan's Progress, Medieval Moment, SCA Kluge, Populace Choice, their Excellencies' Choice, Art of Fencing Challenge and Rapier Tourney. By Lady Cassandra de Matisse's hand, a prize will be presented to the Master Alexander Challenge winner. Please come and celebrate with us!
2016 Results
St. Eligius is an Arts and Sciences event with several contests occurring concurrently. The centerpiece of the event is a contest called St. Eligius. Its theme is that, like SCA martial bouts, the entrants score each other's entries. Entrants are advised by consultants who help them with the process of scoring other's entries. Each entrant must participate in both scoring and being scored. It's a complex experience of learning new viewpoints and skills.
I greatly appreciate the enthusiastic help rendered to entrants by this year's consultants:
Mistress Ysemay Sterlyng and Princess Vivian of Acre working with Novice A&B entrants.
Mistress Briony of Chatham working with Artisans
Mistress Sarah Davies of Monmouth working with Experienced Competitors
Mistress Vienna de la Mer working with Laurels and masters.
Top scores were earned by:
Novice: Lady Aziiza al-Shirazyya, OSB
Artisan: Lady Arabella de Mer , AGL (Award of the Golden Lyre)
Experienced Compretitor: Lady Alys Treeby ,OM
Laurels & Masters: Master Donovan Shinnock, MoD
A number of special competitions were judged by volunteer staff members: Lady Rhode Kephalania, Lady Elizabeth Ives, Mistress Ciara McRobbie, Master Magnus Hvalmagi, Lady Cassandra de Matisse and others who are enshrined in my lost my notes. I'm sorry. Thank you all for your good help.
Registration and tabulation for these contests were handled by Master Joseph of the Red Griffin, Baron of Dragonship Haven. He singlehandedly did a spectacular job of making this all work. Vivat! And thank you from the very bottom of my heart. You are my hero.
Baron Adhemar Challenge was won by Master Qatagin-u Jajiradi called Jaji.
Collaboration (group) Lord Christoffel d' Allaines le Comte OGR, Lady Isabella d' Allaines le Comte OM & Lord Agapios Cargos OSR and Evelyn Peyton for their entry concerning an English Tavern Brawl and how to survive one.
Misadventure: Victoria Holland for cardweaving with cat
Artisan's Progress: Kataryn Kit Mercer for seamstress skill
Medieval Moment: Lady Isabella d' Allaines le Comte, OM for culinary adventures
Master Alexander Challenge: Mistress Renye Wurm, OP, OL recently started glass beadmaking.
SCA Kludge: Celleach Dhe for her multicolor knitted chain maille hat.
Populace Choice: A tie: between Lord Christoffel d' Allaines le Comte OGR and Baroness Charitye Dale,
Lord, now Don, Christoffel's Art of Fencing Challenge:
1st place went to Lord Lorenzo Gorla Lorenzo, OSR
2nd place Master Donovan Shinnock, MoD
3rd place Lord Agapios Cargos, OSR
Congratulations to all the participants for an instructive and entertaining contest.
Baron Joseph's Choice: Lady Emegar la Fillaresse
Baroness Brose's Choice: Kataryn (Kit) Mercer
Dragonship Haven Arts and Sciences Champion: Lady Kathryn Ramsey
Vivat! to every participant, thank you for coming and for showing us your work. It is wonderful to see and to hear your sparkle and passion.
—Baroness Brose, Contest Coordinator
2015 Results
Winners from the 2015 A&S competition at St. Eligius are below. We had a lot of entrants and a lot of amazing work this year. Congratulations to all who won, and thank you to everyone who came out!
Novice A (in SCA 3< years): Morwenna with spun yarns (Canton of the Towers, Carolingia)
Novice B (New to A&S but in SCA >3 years): Symon de Poitiers (Dragonship Haven) with his woodworking in making a chest and variation of the Glastonbury Chair.
Artisan: Lady Vivienne de Dunbar (Settmour Swamp)
Experienced Competitor: Elena Hylton (Canton of the Towers, Carolingia) with her Italian Renaissance Camissa
Traditional A&S Judged by 'Experts': Lord Ernhardt von Stuttgart (Barony of Carillon) with handmade brass pins.
Master Alexander Challenge (an artform you've been doing for <1 year): Emengar la fileresse (Canton of the Tower, Carolingia) for her handsome leather bottle
Progress: Nero Camulus (Barony of Endewearde) for his torch-fired enamels.
SCA Kludge (item for modern purpose made with a Medieval flair): Chelsea of Gloucester (Canton of the Tower, Carolingia) with her cooler disguised as a Pilgrim's bag.
SCA Kludge Honorable Mention: Sunifa Hennricksdottir (Barony of Smoking Rocks) for her medieval wooden and woolen beanie with absolutely outstanding documentation.
Novice B Honorable Mention:  Lord Doroga for his fencing demo (Canton of the Towers, Carolingia). Nice job and lots of fun to watch.
Baron's Choice: Mistress Vienna de la Mer (Dragonship Haven) with products of the Bees
Baroness Choice: Lady Sarah Byrd (Dragonship Haven) with glorious sweets from the Quinces.
Arts and Sciences Champion for the Barony of Dragonship Haven: (Ulfgeirr's Two-step Challenge–make a tool or carry out a process to prepare a material, them make something with that material) won by Lady Elizabeth of Rivenstar with her hand woven woolen fabrics. She started with raw dyestuffs and fleeces then carded, spun, wove these fibers into woolen fabrics and fulled them into finished goods.
2014 Results
Results of the 2014 St. Eligius A&S Competition and Faire. Posted by East Kingdom Gazette in Arts and Sciences.
Above: Winning entry of Master Alexander Challenge (new artforms undertaken within a year) by Lady Ysemay Sterlyng.de Draguignan.