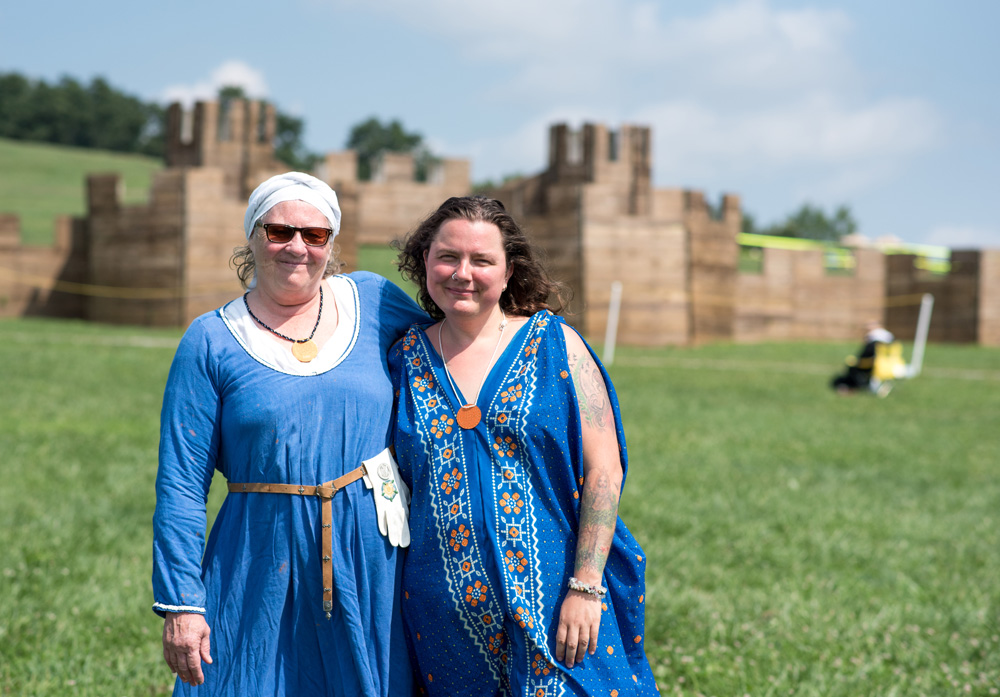 ---
Letters of Intent
Greetings to Their Majesties and Highnesses of the East and the Baron, Baroness, Seneschal
and citizens of the Barony of Dragonship Haven.
I, Rhode Kephalaina, would like to formally announce my intent to run for Baroness of
Dragonship Haven with Mistress Renye Wurm as my partner.
First a bit about me, I have been a member of the Barony of Dragonship Haven and the SCA
since 2004. My second DSH event I spent in Master Jajis kitchen, chopping bacon and making
friends. I was seriously hooked from there. I have spent my time since in DSH volunteering
whenever possible. I have autocratted many events and have located new sites and grown
relationships with those who manage those sites. I have cooked and cleaned for feasts and day
boards, taught classes, held several offices and cleaned up after many events. It has been a
pleasure and a journey to serve the Barony in a variety of ways, filled with both successes and
disappointments, but more importantly lots of learning and laughter. For me, the next logical
step in service is as Baroness. I would like to help the next generation of autocrats, cooks, and
champions grow in the SCA and help DSH continue to run great events, cook great food, and
be a hospitable and warm place to come for events big and small.
What do Mistress Wurm and I have to offer as a pair? Our combined backgrounds and talents
give us a unique perspective on what it takes to make a Barony run successfully. We appreciate
the time, effort, and tenacity that is involved in making an event, demo, practice, or workshop
happen. We are skilled at making connections with potential sites, running practices, cooking
and running feasts and day-board as well as the less glamorous skills of sweeping, moving
chairs, and cleaning toilets. Our strengths as a pair include our ability to work together, our
ability to discuss and work through problems, living in two separate households (we don't have
the same non-SCA obligations), living close to one another, an understanding of Baronial
Offices and their duties to the barony and the East kingdom, a long and happy friendship, and
support of many friends and family both in and out of the SCA.
We want to support and encourage those who make the Barony and SCA a great place for all of
us to play in. We'd like to continue with the traditions of the Barons and Baronesses before us
and start some of our own. We have ideas for new Baronial awards and would like to continue
all of our current orders. We would like to find ways to encourage more people to serve and
participate. If there are more activities that the Barony can support we'd like to help make them
happen, another practice, dance practice, more A&S activities, workshops, demos, events, etc.
We would like to continue to keep the Barony active in East Kingdom activities, support our
members in royal households, entering crown, entering K's Q's competitions, fighting at
Pennsic, etc.
As baroness I will represent our Barony at Kingdom events, I will attend Crown Tourneys,
Coronations, and Investitures, as often as possible during my tenure. I will make an effort to
regularly get to Pennsic and to represent the Barony at opening ceremonies (one of my favorite
things to do in the SCA). I will spend some time working Gate and greeting our guests at local
events. I will work with our neighbors in BBM and beyond whenever the opportunity presents
itself and I will do my best to represent DSH well in the East Kingdom.
I feel the only fealty a territorial Baron/ess should swear is to the East Kingdom and the Crown.
Because of that, if we are chosen as the next baronesses of Dragonship Haven, I will return my
belt to my peers and sever my formal relationships with them. It is important to me that the
Barony and it's well-being be my only SCA focus while serving in this capacity. I will also step
down as Chronicler/Webminister, per our local custom, but hope I could continue to help in
some capacity with the website and Masthead.
Together, Mistress Wurm and I will attend business meetings, practices, and all local events.
We will hold court at every opportunity to recognize and appreciate the members of the Barony.
We will swear fealty to every pair of Royalty that sits the throne during our tenure. We will start
new Baronial orders while continuing to grow the existing orders. We will smile, joke frequently,
show gratitude, wash dishes, teach classes, sweep floors, and support the amazing people
around us in all of their endeavours.
Thank you all for your time and consideration.
Yours in Service,
Rhode Kephalaina
Greetings, My Gracious Majesties, Most Beloved Fellow Dragonship Haven Members and other
Good People that may have chance to read this crude yet sincere letter.
I write this letter to you all, with the hope that you will consider me for the honor of becoming
your next Baroness. It has been my good fortune to be a member of this barony for over 20
years and that time has always been most precious to me. It has helped shape who I am today,
both inside and outside the SCA and I thank you all for this gift. I love this barony with all my
heart. You are my family; my sisters, brothers, cousins. Dragonship Haven is where I first "found
my footing" in the SCA by allowing me to participate in diverse ways: by doing dishes in the
kitchen, sitting at Gate, running dayboards and a feast, event set up and breakdown, teaching
and stewarding Balfar's Challenge (more times than I can remember) and being involved in all
aspects of St. Elegius.
You have also trusted me to be your fencing marshal for many years and your seneschal for 10
years. All this has helped to profoundly impact me in a constructive way. Again, I thank you. Our
Barony's previous Barons and Baronesses have positively colored my outlook as well. Ann of
Hatfield, our 1st Baroness, for her groundbreaking and bravery that helped make us a viable
barony. Arwen and Joe Gajdos for their gentle and welcoming natures, Adhemar for his humor
and style and our current Baron Joe and Baroness Brose for all their hard work, concern and
attention. Your Excellencies, I thank you ALL. If lucky enough to become your next Baroness I
hope to incorporate all these important qualities and contributions into what I do and to remain
ever mindful of them. But also to bring my own experience and boundless love for this barony to
add to it's shaping, as we move forward in the coming years.
Much Loved Brothers, Sisters and Cousins, may I call attention to the hardworking, courteous
and ever-helpful woman who very kindly (as she is always wont to do) has agreed to run with
me as Baroness, Rhode Kephalaina? I believe you know her and love her, as I do. Whatever
may be lacking in me, she more than makes up for it. Rhode is organized, thoughtful, diplomatic
and evenhanded. Because of her, we have sites for our events, Balfar's Challenge, St. Elegius
and Investiture. She has done more work for this Barony than I can relay here, and most
competently guided us through (good and perhaps also some difficult times) as our Seneschal.
Rhode and I come before you all as a couple who want to continue to make a positive impact on
the Barony that we both hold so dear; it's well-being, happiness, productiveness and growth is
of utmost importance to us and is an integral part of what we both feel we can accomplish as
your Baronesses. Rhode and I have the time to devote to the barony. We live in separate
households and our children are grown. We have no affiliations outside of the Barony, therefore
you can be assured of our complete, undivided and devoted attention. With this would come our
full support and attention for our Baronial Officers. Working toward making their jobs/offices as
easy, fulfilling and smooth as possible. Our Officers are the backbone of the Barony, it's
members, it's life blood.
Dragonship's events are favorably known throughout the Kingdom and well attended. As
Baronesses, Rhode and I would do everything in our power to help see this continue and
encourage the possibility of adding more events to the roster. As Baronesses, Rhode and I, on
the part of the Barony, would work with future Kings and Queens in support of our Kingdom, and
to be a helpful and receptive liaison between Dragonship Haven and the reigning Royalty. We
believe this Barony is a very precious and lustrous jewel in the Crown of the East and we will do
all we can to help it to continue to shine brightly.
With all the Baronial involvement Rhode and I have been fortunate to have over the years , we
feel we have a deep understanding of Dragonship Haven. It is an entity that has a subtle, yet
distinct personality. Much like a family member one lives with for many years, a certain intimacy
develops over time. You intuitively know the other person's strengths, weaknesses, moods. You
know what "makes them tick". Rhode and I feel we have that kind of rapport with Dragonship
Haven.
As you can discern, there are two oft repeated themes to this letter; thankfulness and love.
What I wish to impart, above all else is that I am thankful to ALL of you for everything and love
this Barony with all my heart. Regardless of any outcomes, I will most joyously continue to be
your hardworking and loving servant in any capacity you deem fit and promise to be forever,
Yours in service and affection.
Worm
---
Candidate Questions & Answers
Click the link below to view the questions asked by the populace to the candidates, and read their answers.