Pictures of some of the exhibits from the A & S Display at Coronation.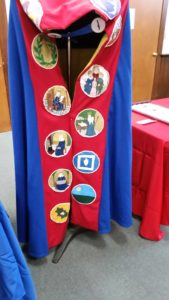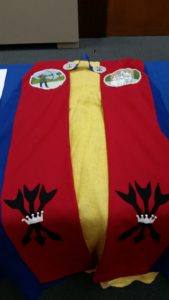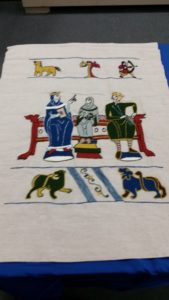 Created to honor the stepping down of Baron Dorien of Lewes and Baroness Eloise of Coulter at the BBM Investiture on 19th of May, AS LIII. Mistress Aelfguifu of the Hazel Thicket – cartoon, linen and wool thread; Mesterinde Ana Ilenva and Mesterinde Anarra Karlsdottir – wool thread and 2 embroidery frames; Lady Johanna de Glastingbui – embroidery and wool thread.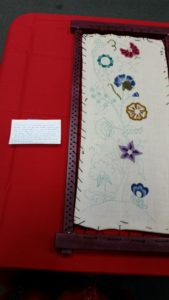 Crewel Embroidery by Lady Angelina Rose. Crewelwork if Jacobean – post period. However, not only are the stitches period, but the use of stamped patterns as well as these motifs are commonly found in period on dresses, caps and gloves. Though wood is commonly dyed many colors, I have notyet found a reference for it being used for embroidery in period. Design by: Diane Ovaska, produced by Custom House of Needlearts, kit #46. Frame by T.F. Woodcraft, custom in purpleheart.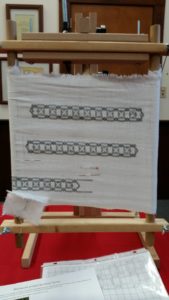 Blackwork Project by Amia Turner
Glastonbury Chair by Lord Casimir Sarkastyzczny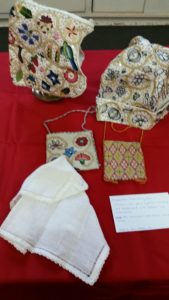 Elizabethan embroidery by Mistress Amy Webbe, OL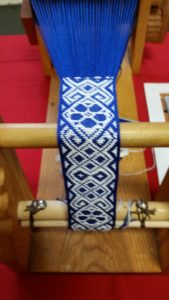 Brocade Tablet Weaving by THL/Lady Arabella DeMere, OM, OSB, Minister of Arts & Sciences, The Incipient Shire of Nordfjordr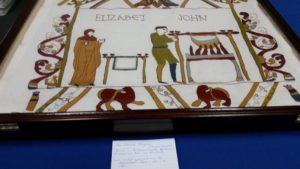 Marshall Hanging by Elizabet Marshall based on the Bayeux Tapestry.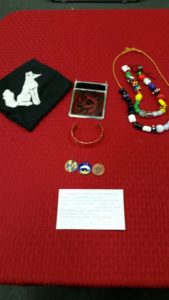 Various artworks by Temair inghen Muiredaich. Beads on gold cord: finished
Beads on black cord: need to be cleaned
Copper Viking bracelet: Metalsmith Symposium 2018
Cloisonne & forged pendants: Pennsic
Stained glass: Pennsic
White fox on black is for a Viking hood.